Flexible Campaigns
Pick the Solution That Fits Your Business
Customize a digital marketing mix to fit your goals or select from a series of pre-created packages, including:
Netsertive's CORE Used Car Solution pairs a core inventory strategy with dynamic search ads to help you attract high-quality leads while reducing wasted ad spend.
Netsertive's Fixed Ops Solution uses a combination of branded service terms, first-party audiences, and relevant extensions to increase traffic to your service bays.
Netsertive's Conquesting Solution utilizes custom audiences on search, Facebook, and YouTube to help you reach consumers actively researching your competition online before they make a buying decision.
Get the Support You Need to Succeed
With Netsertive, you gain access to an experienced team of digital & automotive experts, dedicated to the success of your business:
Certified Digital Media Strategists conduct monthly virtual strategy meetings to develop marketing plans unique to the goals of your dealership
Performance Ops Team maximizes ROI with continuous monitoring & tuning of your campaigns.
In-Market Sales Managers meet with you in-store to review monthly business goals and make sure your KPIs are being met.
Compare Packages
Set Up a Demo
Enroll
---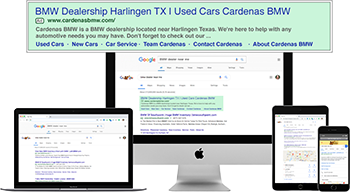 Search Marketing
Attract High-Intent Shoppers with Data-Driven Text Ads
Netsertive's keyword and campaign automation technology has revolutionized paid search management for hundreds of dealers. Each day, our client's campaigns receive a comprehensive audit to identify areas where immediate improvements can be made.
> 7.0% CTR
Top 2 Ad Position
> 8.0% Conversion Rate
Digital Video Advertising
Watch Awareness Grow with Digital Video
Choose a campaign-ready, brand-compliant BMW video from Netsertive's brand video library to customize for your dealership or provide your own video asset. Our YouTube Solution uses enhanced in-market audiences and retargeting capabilities to drive awareness among local car buyers in the market for BMW. This solution fits any marketing mix by maximizing the reach of your current TV buy or reducing costs when replacing TV budget with a digital alternative.
45% Avg. View Rate
$0.05 Cost Per View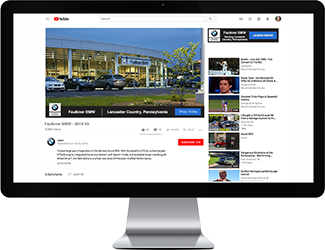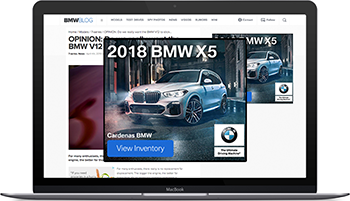 Display Advertising
Boost Engagement Beyond Search with Visual Ads
Targeted display campaigns with dynamic capabilities connect national brand messaging with local dealer content. Reach new consumers earlier in the buying process or re-engage prospects that have visited your website before with captivating visual ads.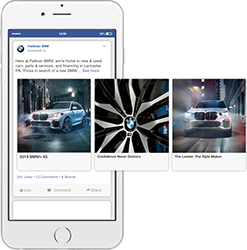 Social Media Advertising
Reach High Intent Customers on Top Social Networks
Netsertive's unique Brand-to-Local audiences target your ideal car buyer on Facebook, Instagram, and across Facebook's network of third-party websites, apps, and games. Plus, make it easy for prospects to request appointments with our Social Lead Ad Solution and get new leads delivered straight to your CRM for quick action.