Maximize Google My Business listings and amp up your online Reputation across 7 popular automotive review platforms and 3 social channels with Friendemic's Catalyst Connector, the Reputation Management and Social Engagement platform built uniquely for automotive.
Catalyst Connector is proven to grow your star ratings, review volume, searches, calls, website visits and direction requests. Your custom BMW package includes the creation and management of up to three Google My Business listings with 18 profile content categories, creation of robust product carousels, engaging posts, review responses, answers to customer questions from Google My Business listings and seeded questions and answers to get social content flowing. Plus, Friendemic provides you the tools to gather more reviews across all relevant automotive review platforms and extend social content from GMB to Facebook and Instagram.
Start gathering positive reviews at the point of sale when your customers are most excited about their purchase, and automate review invites with recent buyers through Friendemic's DMS integration. Privately connect with customers who may feel their experience was not 5-star worthy, before they share their thoughts online or via surveys. Manage all reviews in one place, with detailed, centralized reporting dashboards and customized alerts that let you always stay on top of reviews and customer feedback.
Develop content once--or have us develop it for you--then share again and again across all the social platforms BMW shoppers turn to when they are in-market. Easily produce and share videos, photos and testimonials that your salespeople can readily access with their own mobile devices. You can even allow staff to create content but maintain control of compliance and publication.
Pick the Catalyst Connector package that best fits your dealership, with choices for software access and managed response services, or from an ala carte menu of our most popular modules. Grow your online presence, protect your online reputation and generate new revenue with Catalyst Connector from Friendemic, the Reputation Management and Social Engagement platform built for automotive dealerships.
Compare Packages
Set Up a Demo
Enroll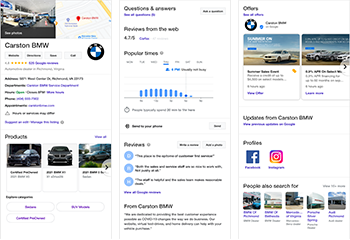 ---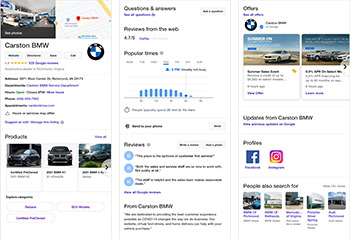 CATALYST CONNECTOR
When in-market shoppers search for "BMW dealerships near me," it is likely they will be using Google and that Google My Business listings will dominate the first page. Shouldn't your dealership be optimizing Google My Business sales, service and parts listings as the foundation of a successful Reputation strategy? Friendemic understands the power of stellar online reviews. We work with you to grow your star ratings across Google My Business, Facebook, Cars.com, DealerRater and other popular automotive review platforms.
Take advantage of comprehensive features specialized for automotive dealerships, including real-time review invitations, automated review invitations through our DMS integration and a mobile app to capture video, testimonials and photos at the point of purchase or on the go.
GOOGLE MY BUSINESS LISTINGS MANAGEMENT
We have all the features you need to fully maximize Google My Business, including GMB listing management, set-up of up to 3 Google My Business listings, 18 product categories for better SEO and assistance setting up robust product carousels with 100+ photos, videos and more.
Once a content foundation is optimized for GMB, we will help you leverage it across Facebook, Instagram and other major automotive review platforms and social channels. Friendemic also provides services for managing review and question response--everything you need to build an online presence that takes advantage of your unique position as a BMW dealership and helps consumers see that you are the best choice for BMW buyers.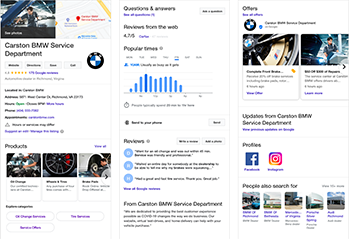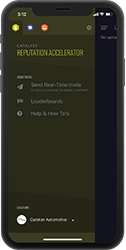 Reputation Accelerator
Send review invites at the point-of-sale to finish your customer experience, or use our data integration feature to automate your invites to send at a later time. Our mobile app makes it quick and easy to get happy new customers leaving reviews without being stuck at a computer. Our software captures negative feedback before it appears on your reputation sites, and collects it in one place for you to review at your convenience.
Our Response Console provides hourly review site monitoring to keep you informed, and updates you with customizable alerts for any new reviews or feedback. Reputation Snapshot makes it easy to see where you stand across all of your review sites. If you want a closer look, our detailed reporting helps you see which of your reputation sites need more attention.
Review Response
Our response service helps you stay on top of your reviews by responding within 24 hours, 365 days a year, including weekends and holidays. As a preferred Yext partner, we can manage your reputation listings for consistency and accuracy across dozens of sites.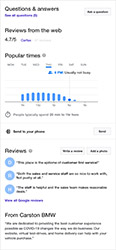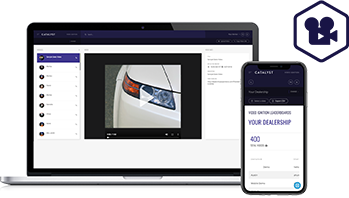 Video Ignition
Facilitate customer communication using our new technology that allows you to record and share private YouTube videos with customers via text or email. Entice prospects with personalized videos of vehicles they are interested in. Improve transparency with your Service Drive customers by showing them problems uncovered during routine maintenance, or update them on repairs. Personalized reporting dashboard tracks which employees from your dealership are using the app.
Content Fuel
Capture customer and product photos, videos, and success stories from our mobile app. Photo and video release forms are built into the app to ensure consumer permission before posting to your social media pages. Capture content from multiple locations and users without the need to access dealership social media accounts. Connect Content Fuel's RSS feed to any major publishing network to take the hassle out of social posting.