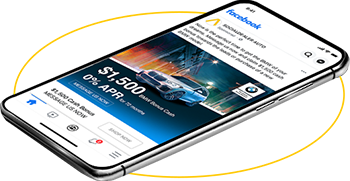 SOCIALDEALER is the premier social & reputation agency located in the Washington, DC area. With an entire Facebook Blueprint Certified client management team, SOCIALDEALER continues to set best practices for automotive social advertising.
For more than a decade, SOCIALDEALER has helped automotive retailers sell & service more cars profitably through the use of social media. As a preferred Marketing Partner with Facebook, they have access to advanced support, tools, and agency-specific resources to help accelerate their client success across Facebook platforms. The team also provides top creative support with advanced industry creative designers, motion graphics professionals, and creative thinkers to create "thumb-stopping" social ads & posts.
Compare Packages
Set Up a Demo
Enroll
---
100% CERTIFIED TEAM WITH 99% EFFICIENCY
Don't trust your advertising with anyone who isn't certified. With an entire Facebook Blueprint Certified client management team, we continue to set best practices for social advertising. As a Facebook Preferred Marketing Partner, our social ads are constantly being measured and tested. We are pleased to report that our ads are at the top of the heap when it comes to quality operating at an average of 99% efficiency rating according to recent Facebook reports.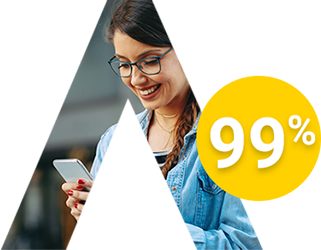 ---
---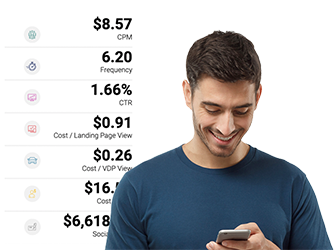 100% ROI TRANSPARENCY
We use data and technology to drive social success. Our SOCIALRESULTS technology provides transparent reporting on your ad spend. Ever wonder if your social ads are ACTUALLY working? Our SOCIALRESULTS platform uses offline reporting that matches back to your social advertising spend. This allows our team to adjust performance on a monthly basis.
---
FACEBOOK MARKETPLACE
Feature all your Pre-Owned Inventory to customers who are looking to buy. Answer customer questions in real-time through Facebook Instant Messenger. Schedule time for interested customers to visit your dealership and take a test drive.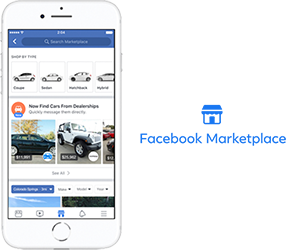 ---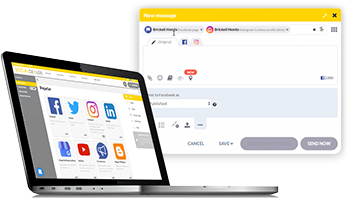 ORGANIC SOCIAL MANAGEMENT
Our social professionals manage your store's social channels all from one place. Build your brand message with posts to keep your customers & community regularly engaged. Our SOCIALRESULTS platform monitors all your social engagement, from likes, comments, and shares, to direct messages.
---
PLANNING & POSTING
Our social managers plan content with you at the beginning of each month. They schedule posts, order branded content from our creative team, and work with you on setting your social goals for the month.
Your social manager will report on all engagement across your social channels and set benchmarks for content engagement monthly.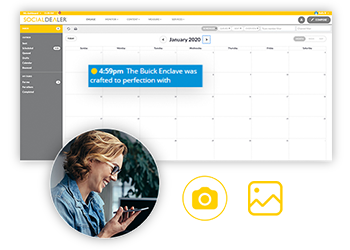 ---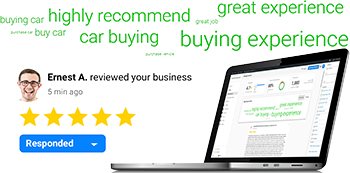 REPUTATION MANAGEMENT
According to recent studies, 84 percent of consumers trust online reviews as much as a personal recommendation. It is important more now than ever to have your online reputation under control. Our reputation program empowers dealerships by tracking reviews across all major review sites in real-time. Our reputation managers respond to each review with customized and appropriate responses on your behalf. We notify you if a customer has had an unsatisfactory visit at your dealership so that you can address the issue off-line.
REVIEW GENERATION PROGRAM
Following a sales or service transaction at your dealership, your customers are sent an invitation to review their experience. The invitation email links to a quick survey that prompts the customer to explain whether their experience was positive or negative. All survey results are automatically sent to your team in a summary email. If a customer fills out the survey and the results are positive, the customer is sent a follow up email automatically inviting them to share their experience on popular review sites.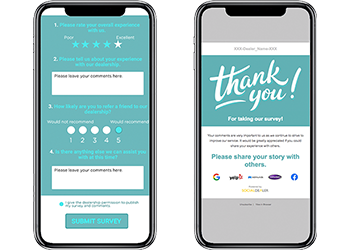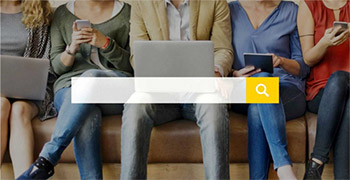 SEO & LISTING MANAGEMENT
We manage your business listings, blog content, and more!
At SOCIALDEALER, we take your dealership's reputation very seriously. A dealership's reputation depends on multiple factors including a complete view of their social presence (organic & paid), online search presence, and customer reviews. Our SEO experts make sure your organic search presence is in good standing by providing your site with fresh blog content & more.