Your customers want to text you. Let them.
Kenect allows you to engage with your customers where they are—texting on their phone. Double your leads, generate online reviews, and capture payments—all via text. 89% of consumers say they would rather text a business than call them. Give them that option.
Kenect + Friendemic have the shared vision of connecting businesses with Customer. Over 6,000 dealers use Kenect today for Texting, Reputation, and Social. Become one of them.
Compare Packages
Set Up a Demo
Enroll
---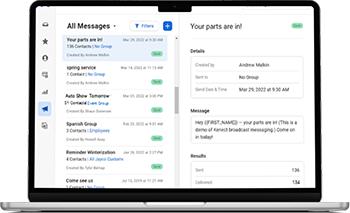 Business Texting for Your Dealership
Make your phone number textable and send and receive text messages from your existing dealership number. Texts flow into your Kenect text inbox (like an email inbox but for texts) accessible on your desktop or the mobile app. You can respond to them, intelligently route them to individuals, teams, departments, or locations. Auto responses, message templates, scheduled messages, Facebook integration, and automated messages with DMS integrations provide a great customer experience and save you time leading to more revenue and improved efficiency.
Increase Your Online Reviews
91% of customers say they choose a dealership based on Google reviews. Studies show that if you don't have 150+ reviews and an average of 4.5 stars you're in trouble. Kenect will help you generate more reviews in just a few months. Asking for a review via Kenect texting is 38x more effective than asking for reviews via email. Kenect can be a review generation machine for you and your company. Turn on that machine!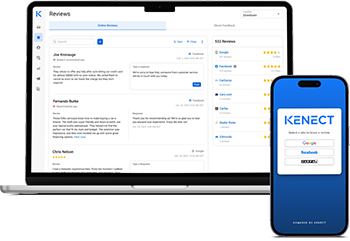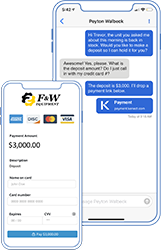 Collect Payments with Texting
Parts and service departments Kenect's Text-to-Pay to collect payments. It's simple: just text an invoice using Kenect and the customer pays. It's transforming parts and service and is the fastest growing feature of Kenect.
Video Chat
While texting a customer using Kenect, with one click you can easily start a live video chat. Both you and the person you are texting will receive a link in your text thread to start a video chat without needed to download any software. In sales, use it for walkarounds and live demonstrations of new vehicles. In service, use it to show the customer what is wrong and even upsell services. In parts, use it to better understand the part a customer needs to avoid errors.