Podium
Today's consumer demands convenience. Historically, that has translated well for online businesses. Podium addresses this need for businesses with a local presence by providing an interaction platform that connects to all major messaging channels and enables users to easily manage all inbound and outbound communications. As a result of growing preference for convenient communication, your dealers are connecting with customers on their terms, and through the channels they prefer. Attached are the accompanying images for the Main Content See examples below:
Compare Packages
Set Up a Demo
Enroll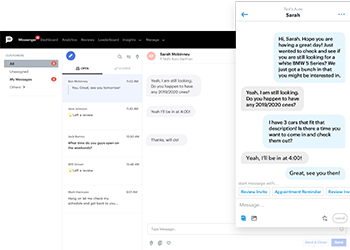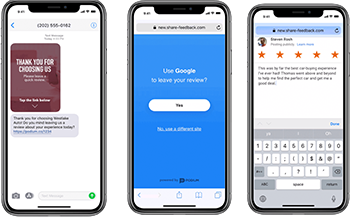 ---
Podium supports thousands of dealerships on our interaction platform today. These dealerships leverage our technology to assist with:
Messenger
Bring all of your channels into one centralized inbox, including SMS text messages and Facebook Messenger.
All customer conversations are saved to a central database.
Improve business efficiency through faster customer communications.
Reviews
Be the #1 choice on the sites your customers love and trust.
Simple to manage from start to finish.
Track the reviews of your competition to benchmark your success.
Webchat
Take the conversation offline by responding to your website visitors via text, from there you get the flexibility you both need to keep the conversation going.
Quickly capture leads by saving your visitor's name and phone number the second they send a message on your site.
Your customers want to text you. Chat with them on their preferred channel.
Feedback
Gather feedback through two quick, automated messages. No links, no lengthy surveys.
Reach customers where they're most engaged and get responses in minutes, not months.
Understand what's working and fix what isn't so customers keep coming back to your business.
Integrations