Kenect offers a comprehensive suite of products designed to enhance automotive dealerships' online reputation and customer communication. Our Reputation Management platform simplifies the process of generating positive reviews and automates review invites across major automotive platforms. Dealers can easily track their improved reputation progress. In addition, Kenect provides digital communication tools that allow seamless interaction with customers through mobile texting, video, reputation listings, and social channels. Kenect's Social tools enable effortless capture and sharing of personalized photo and video content on various social media platforms. Meanwhile, the Video tools facilitate lead responses, upsell drivers, and improved customer interactions, resulting in a significant increase in appointment set rates and growth of the RO size in the service department. Whether dealers prefer a do-it-yourself approach or fully managed services, Kenect caters to their specific needs, ensuring their dealership's reputation thrives in the digital landscape.
Compare Packages
Set Up a Demo
Enroll
---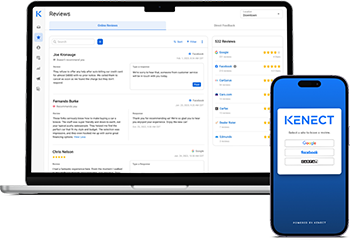 KENECT REPUTATION
Kenect offers a comprehensive Reputation Management platform that simplifies and streamlines the process for dealers to boost positive review counts, enhance online ratings, and automate review invites across major automotive review platforms. You can easily track the progress of your improved reputation with our platform. With our negative review filter and private feedback feature, you can filter through negative reviews and gain insight on what your dealership needs to improve without hurting your overall rating. Kenect is integrated with 7 auto review sites, boosting local SEO so you can rank the highest when searched and be the dealership of choice for local customers.
KENECT REPUTATION + SOCIAL
Kenect's Reputation + Social platform includes all the amazing features of Reputation but adds Kenect's amazing Social tools. Kenect's Social tools enable dealers to effortlessly capture photo and video content for personalized sharing with customers to boost engagement in the sales or service journey. Your content remains readily accessible in the cloud through the Kenect App and we make it easy to create social posts with your organic content. Moreover, we offer assistance in managing your social postings, ensuring optimal quality and frequency of organic and OEM content across sites like Facebook, Instagram, and your Google profile. This approach guarantees enhanced organic search exposure and increased clicks for your dealership.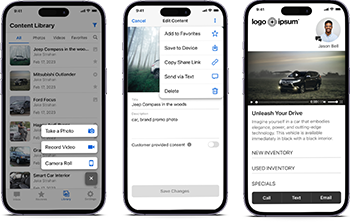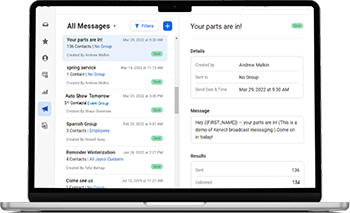 KENECT PROFESSIONAL
Kenect's Professional platform includes all the amazing features in Reputation + Social but also includes messaging (Facebook, Broadcast, and Scheduled) and live Video Chat. Kenect's Professional platform makes it easy to communicate with customers on mobile. Text customers directly, interact with Facebook Messenger, and even set up opt-in text marketing groups and text them important information all at once with Broadcast Messaging. Dealers who utilize Kenect to respond to leads with a video introduction to a customer's mobile device and promptly follow up with a video walkaround experience an impressive 30% increase in appointment set rates.